The ICA's 15th Anniversary Meetup in Las Vegas recently completed.  The first member meetup as a standalone event in the organization's history was held from September 19-21 at the Green Valley Resort in Henderson, Nevada, located just outside of Las Vegas.
Despite a changing Covid-19 outlook, Kamila Sekiewicz, the ICA's Executive Director, put together the industry's first sizable in-person gathering since the NamesCon held in Austin in January 2020.  The meetup brought together 35, primarily US-based, ICA members. Shout out to our General Counsel, Zak Muscovitch, for braving the trip from Canada, and Gregg McNair, long-time ICA supporter who joined us from Panama.
ICA members enjoyed the opportunity to sit down together face-to-face at last after a long 18 months of Zoom calls and other virtual events.  Members enjoyed free meals thanks to the generosity of our sponsors, the chance to chat at length with industry leaders, the opportunity to ask questions directly to the head of the domain name aftermarket at GoDaddy and to share perspectives on priorities for the ICA, a beautiful walk in Red Rock Canyon, dinner in Vegas, lounging poolside at the Green Valley Ranch, and most of all a welcome return to being able to socialize with old and new friends in person.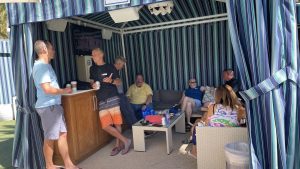 Day 1 started very leisurely with cabana networking as attendees arrived at Henderson's Green Valley Ranch Resort. We have Jebidiah and Simon from Above.com, Mike Cyger, and Ammar Kubba to thank for sponsoring the cabanas! Many of us have not seen each other since Austin's NamesCon in 2020, so it was a very special reunion. And due to ICA's recent growth, we were also meeting many newer members for the first time.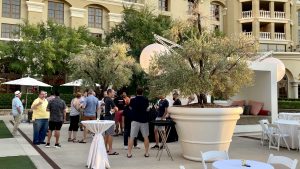 Next, we headed over to the opening reception sponsored by Dynadot, held at a beautiful outdoor patio in our hotel. Dynadot's Hallie Cao was there to welcome each participant with a free .com. Please reach out to us if you didn't claim yours. For the rest of the night, we enjoyed some great conversations, delicious food, and drinks sponsored by Bodis and Gregg McNair's PTL.
The next day was an early one, but that didn't stop an impressive 17 of us gathering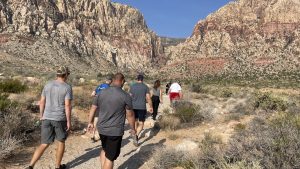 at 7:30 am to head out for a bit of hike near the Red Rock Canyon. And we only made one wrong turn, one that luckily landed us in a perfect spot for a quick break and a group picture opportunity.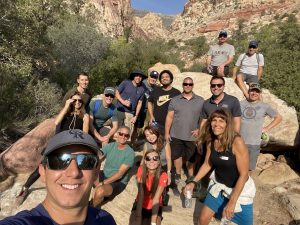 The hiking group made it back to the hotel in plenty of time to meet the rest for an introduction and a candid Q&A session with GoDaddy's Paul Nicks. Then we were off to another fantastic meal. This time a lunch sponsored by Zak Muscovitch, again at an open-air terrace of our hotel. Even the Vegas weather cooperated, providing sunny but not too hot surroundings for our outdoor meals.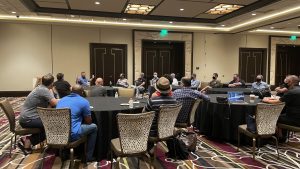 Mike Cyger of DNAcademy opened the next session, and a town hall discussion on the past, present, and future of the ICA followed. First, one of the earlier ICA members, Nat Cohen, spoke about ICA's beginnings, bringing up stories and details many of us had never heard before. Next, Zak spoke about issues we are currently involved in and their importance and impact on the domain name industry. We then opened the session to hear from our members about their concerns, important matters, and ICA's future direction.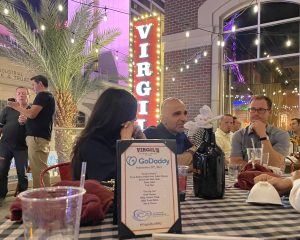 After a short break, we gathered at the hotel lobby to head over to Virgil's BBQ on the Strip, where we had a fantastic BBQ meal and drinks sponsored by GoDaddy! The location was perfect as we got to enjoy a large outdoor patio overlooking the LINQ promenade.
The following day, the members of ICA's leadership team who attended the meetup gathered for a team breakfast in a rare opportunity that allowed us all to meet in person, go over the meetup, and, plan for the future. Judging by the response we received after this event, we hope to do this again soon!