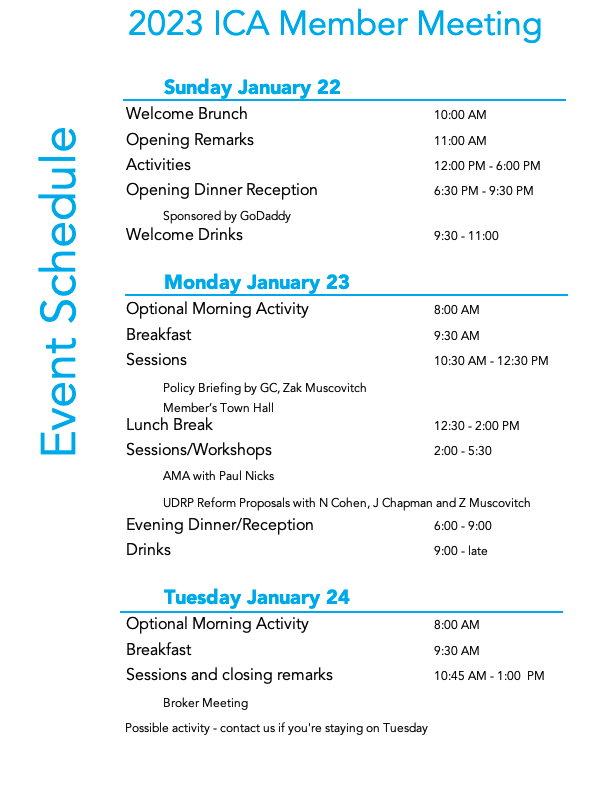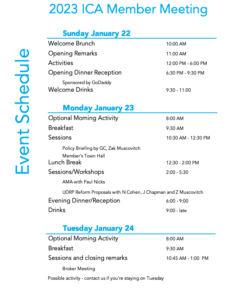 Announcing the preliminary agenda for the 2023 member meeting! The agenda is subject (and likely) to change but this will give our attendees a good indication of what to expect. Similarly to our 15th Anniversary meet-up last year, we are organizing a fun event that will focus on networking, combining sessions, member meetings, and social activities.
Until the end of the month, we are offering a spectacular promotion to encourage industry members to join the ICA: Anyone who joins the ICA, and pays for an annual membership, will receive a free ticket to the member meeting! This promotion will expire on October 31st so join today!
Early bird pricing for even registration ends on October 31st! So if you haven't yet, register today! The early bird ticket price is only $199 for members and plus-ones and will include a great selection of receptions, meals, and more. The ticket price will increase to $299 on November 1st. Members are welcome to bring a plus-one (partner, spouse, or family member) and purchase a ticket for them.
We also added more rooms to ICA's room block at Resorts World. The average room price is $100 (plus resort fees and taxes). The room block has a limited number of rooms, so make sure you reserve yours quickly before they sell out!